Air Conditioning and Heat Repair and Installation in Ozona
Located at the very end of Tampa Road lies the eclectic town of Ozona. And living in Ozona, nestled by the Gulf of Mexico and its pristine beaches, folks know they have arrived in a piece of paradise. There are so many amazing things to do and see here. Take a walk to Molly Goodheads for a bite, then finish it off with one of our dessert shops, and you'll be living the Ozona Life. And the sunset never lets you down.
After a day in the sun and fun, you sure don't want the AC to go caput. Not to mention, our AC in Florida is one of the most crucial parts of our homes.
So, if you experience a problem with your AC, call the friendly and professional staff at Veterans AC & Heat for immediate help.
Veterans Quality AC Services
Veterans AC & Heat is here for the residents of Ozona. Our experienced technicians will service, install, replace, or repair your current HVAC system. Here are some of the HVAC services we are pleased to offer.
Preventative Air Conditioning Maintenance
Duct Installation & Repair
Air Conditioning Analysis
Fast 24/7 Air Conditioning Repair Service
Start with Preventative Air Conditioning Maintenance
Veterans has the right deal for your Ozona home. We offer Silver, Gold, and Platinum Maintenance packages to keep your cooling and heating system working efficiently all year round. A good preventative maintenance plan achieving the following:
Preventative care maximizes efficiency
Improves system performance
Prolongs your A/C system's life
Maintains the current manufacturer's warranty in its place
Helping to prevent any surprise breakdowns and costly repairs
Whether your system needs care occasionally or more frequently, the technicians here at Veterans HVAC are here for you and your ultimate comfort.
Duct Installation & Repair
In Ozona, our AC units work hard, day in and day out. Improperly sealed ductwork will make your HVAC system work harder than it needs to pump air throughout your home, and that is unfortunate. Don't risk burning out the motor because of some faulty ductwork. What's more, this extra work can increase your home's energy bills, and the air may not be evenly circulated throughout your house, causing excess dust and uneven heating and cooling.
HVAC ductwork keeps your home or business cool during Florida's long hot summer months.
Air Conditioning Analysis
Your HVAC unit will benefit from a professional analysis by the team at Veterans AC & Heat if you are experiencing any of these conditions:
Higher than usual utility bills
A system that is running all the time
Rooms that are either too cold or too hot
Drafts due to inappropriate insulation and seals
Veterans HVAC's qualified technicians will perform a professional AC performance evaluation to evaluate, locate, and quantify the different elements impacting comfort, performance, and energy conservation.
Fast 24/7 Air Conditioning Repair Service for Ozona
We have you covered, Ozona, with fast A/C repairs 24 hours a day, seven days a week, and 365 days a year, no matter how big or small the repair. Our qualified technicians will arrive with a well-stocked HVAC service truck to repair your air conditioning on the spot as quickly as possible.
When the job is complete, your technician will let you know all they have done for your AC and tips and tricks to keep your energy bills as low as they can get in Ozona.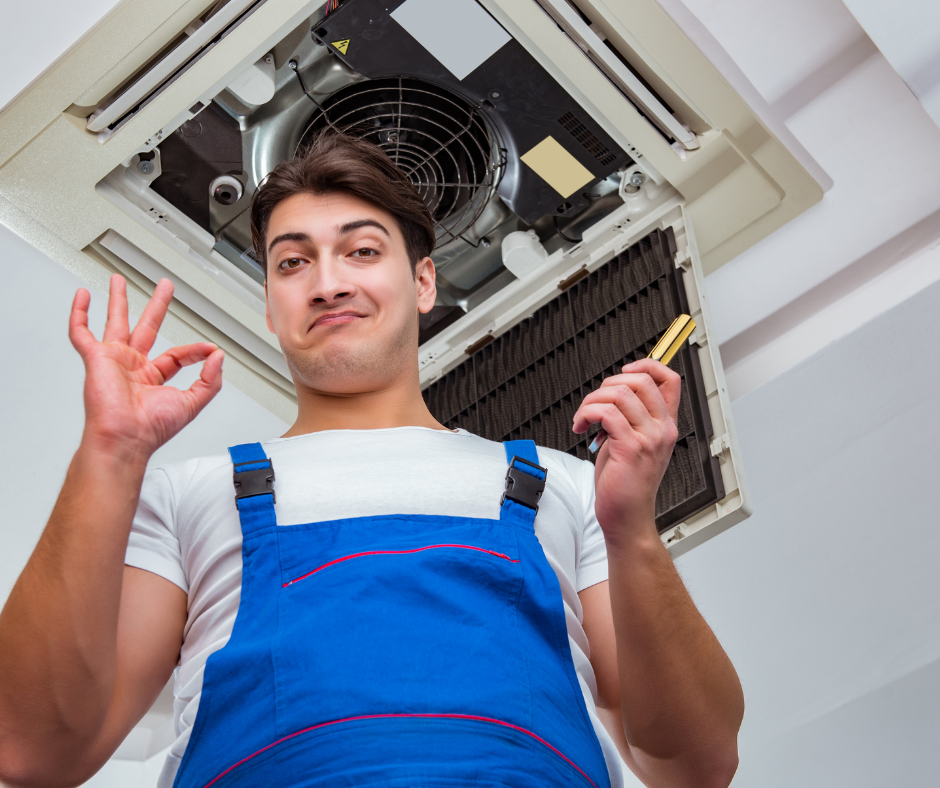 Duct Sealing Improves Air Quality
Here are some reasons to have your HVAC ductwork inspected and sealed, if necessary, in your Ozona home or business.
Indoor air quality improvement– Protect your family and home's air from allergens, dust, and harmful chemicals.
Cleaner, safer air quality-By sealing your ductwork, you protect your home from back drafting, which occurs when combustion gases get drawn back into your home.
Living more comfortably- Your family will thank you for proper air pressure and flow by adequately sealing the ducts in your home. And your AC will run like a dream.
Heating Service & Repair
Yes, in Ozona, Florida, we occasionally need heating service and repair for your HVAC system – emergency and routine. When we get that rare but welcome stretch of cold weather, Floridians need heat inside their homes and businesses. We don't often get those cozy nights, and we really like to make the most of them in Ozona. Therefore, regular maintenance to keep your system up and running when you need it should be scheduled with a reputable company, like Veterans AC & Heat.
Veterans AC & Heat Service in Ozona
The qualified technicians at Ozona's Veterans AC & Heat are ready and waiting to assist with your HVAC service and repairs. Do you need an estimate for one of our services? Good news-We offer free estimates.
Contact us to schedule an appointment today.